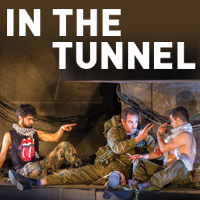 Cherry Orchard Festival presents
GESHER THEATER ( ISRAEL)
IN THE TUNNEL - US PREMIERE
Play by: Roy Chen, After: Danis Tanovic "No man's land", Directed by Irad Rubinstein
Saturday, October 6, 2018
at
8:00 PM
Premium VIP & Artist Reception tickets at $250 include an exclusive Post-Show Cocktail Reception with the Gesher Theatre cast, featuring hors d'oeuvres and an open bar.
Performed in Hebrew with English and Russian surtitles
Gerald W. Lynch Theater
[map]
524 W 59th Street
New York, NY 10019
(between 10th and 11th Avenues)

''In the tunnel is a great show ... madly funny ... the front line of the political theater in Israel ... 5 stars Do not miss!'' - Yedioth Ahronoth
''This performance takes Gesher Theater to the forefront of Israel's political scene''. - Haaretz
Direct from Israel, the internationally acclaimed Gesher Theater presents the North American premiere of ''In the Tunnel'', satirical novel, directed by Irad Rubinsten.
Is there a light at the end of the Tunnel? Is there a solution to the awful and utterly predictable Israeli/Palestinian cycle of violence? Can we ever retreat from the barrage of buzzwords that form the narratives of both sides?
Israeli soldiers, a beat-up reservist Iftach and ''green'' draftee Tzlil, are buried in the tunnel. They are together with two Palestinians - Mansur and Hisam. Enemies are in the mousetrap, trying to find their way out. To kill or to save each other? They try to survive in this suffocating underground. Above them - our customary political carnival, absurd, dominant and inherent background of our daily life. Is theater the mirror of reality? Can it reflect and judge this reality "here and now"? To whom and what to believe? Who triggers and who lowers the trigger in the world, ruled by mass media, in the world of broken communication?