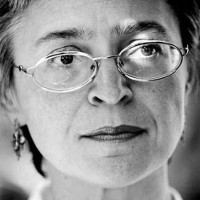 Stephanie Satie's
Martyr of Moscow
Part of our FemFest series.
Sunday, January 20, 2019
at
7:00 PM
The Fountain Theatre
[map]
5060 Fountain Ave.
Los Angeles, CA 90029
East Hollywood
Accessible Parking available adjacent to theatre for $5 in our secure lot.
A reading of the timely and troubling new solo play by writer/performer Stephanie Satie (Silent Witnesses) about murdered Soviet journalist Anna Politkovskaya and the impossible price one pays for telling the truth.