The selected performance is NOT available for sale.
Please Select Tickets
You have selected: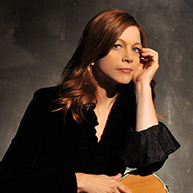 BCT Presents
2021 An Acoustic Holiday Show
with Carrie Newcomer and Over the Rhine
Saturday, December 11, 2021
at
8:00PM
Buskirk-Chumley Theater
114 E. Kirkwood Ave.
Over the Rhine
2021 Christmas Tour Thoughts :
One December, not long after Over the Rhine began recording and touring, we were invited to perform some seasonal songs on a public radio station. So we worked up a few carols and traditional tunes. It actually felt really good and conjured up an unusual mix of feelings from childhood: innocence, loss, wonder, joy, sadness. I think we were surprised.
People must have tuned into the radio broadcast, because we began receiving inquiries as to whether we had recorded any of our Christmas songs. In December of 1996 – can it really be 25 years ago? – we recorded and released our first song cycle of some of the Christmas carols that still haunted us. We included a few original tunes and called our wintry mix
The Darkest Night Of The Year
. Folks began snatching up copies and seemed to agree that they hadn't heard anything quite like it.
We began playing concerts around the Midwest every December and found that the rooms were usually packed full of people who had bundled in out of the cold. If you stepped outside during intermission, you could make ghosts with your breath in the crisp night air. And it was dark – oh so dark: a time of year with its own music.
A decade later, in 2006, we released our first full collection of original Christmas/holiday songs called
Snow Angels
. What is it about Christmas music and the undeniable gravitational pull it exerts on some songwriters? So many Christmas songs have already been written. I think we are genuinely curious about the ones that haven't yet been written.
We continued to tour every December and these special year-winding-down concerts began to feel like an annual tradition – gatherings of extended musical family, without whom we'd be homeless. We released our third holiday album of original songs,
Blood Oranges In The Snow
, in December of 2014. One enthusiastic fan wrote to us, I just love your new Christmas album,
Blood On The Oranges
. We're dark but not that dark.
On our 2021 tour, we will be leaning into some harmonies and making an intimate but hopefully holy ruckus. It won't be all Christmas music: we'll certainly mix in tunes from many of our records along the way. But hopefully it's still true, that you haven't heard anything quite like it. And after the strange and surreal season we've all been through, when stages all around the world went dark, how could the music not throw off much-needed healing sparks? We need this.
We hope you'll join us,
Linford Detweiler
Carrie Newcomer:
Carrie Newcomer is a songwriter, recording artist, performer, and educator. She has been described as a "prairie mystic" by the
Boston Globe
and one who "asks all the right questions" by
Rolling Stone
. Carrie has 19 nationally released albums on Available Light & Concord/Rounder Records including
Until Now
,
The Point of Arrival
, and
The Beautiful Not
Yet
. Newcomer has released three books of poetry & essays
A Permeable Life: Poems and
Essays
,
The Beautiful Not Yet: Poems and Essays & Lyrics
, and
Until Now: Poetry by Carrie
Newcomer
. Her song "I Should've Known Better" appeared on Nickel Creeks' Grammy-winning gold album
This Side
, and she earned an Emmy for her PBS special
An Evening with Carrie Newcomer
.
Recent appearances include PBS
Religion and Ethics
and Krista Tippett's
On Being
. In 2009 and 2011 Newcomer was invited by the American Embassy of India to be a cultural ambassador, resulting in her interfaith benefit album
Everything is Everywhere
with master of the Indian sarod, Amjad Ali Khan. In 2013 Carrie traveled to Kenya and the Middle East, performing in schools, spiritual communities and hospitals assisting AIDS patients. In 2015 Carrie's first musical,
Betty's Diner: The Musical
, was produced by Purdue University. In 2016 Carrie was awarded an honorary degree in Music for Social Change from Goshen College. In 2019 she received The Shalem Institutes's Contemplative Voices Award.
In recent years Carrie joined with the author Parker J. Palmer on several projects, including
The Growing Edge
collaboration which explores growing edges, personally, vocationally, and politically. Together they create live events, personal growth retreats, and the highly rated
The Growing Edge Podcast
that features authors, activists, poets, and musicians, and online conversation starters for book and other conversation groups.
Spirituality and Health Magazine
named Parker & Carrie in the top ten spiritual leaders for the next 20 years. During the COVID-19 pandemic, Carrie was involved with many creative online projects, including the creation of her own streaming studio, Available Light Studios. She helped found a new online concert platform, Mandolin, with her husband Robert Meitus and has continued to perform and present workshops in-person and online. Carrie is known for her low and resonant voice , ..as rich as Godiva Chocolate" according to
The Austin Statesman
, for her musical depth and the progressive spiritual content of her songs, poetry, and workshops, and for her continued work in justice, spiritual and interfaith communities, and health and hunger organizations. She lives in the wooded hills of South Central Indiana with her husband and two shaggy rescue dogs.
Doors open at 7pm for this reserved seating event. The estimated length of the program is 120 minutes. Wearing a mask is required indoors in Monroe County.
Vaccine verification or negative covid test results within 48 hours required
to enter the venue.
COVID Policy FAQ
.