The selected performance is NOT available for sale.
Please Select Tickets
You have selected: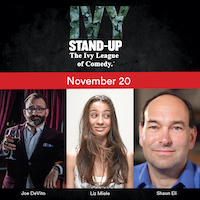 The Ivy League of Comedy Presents:
Joe DeVito w/ Liz Miele and Shaun Eli
The MainStage Theater
Saturday, November 20, 2021
at
8:00PM
The Dorothy and Charles Mosesian Center for the Arts
321 Arsenal St
MainStage Theater
Proof of vaccination for COVID-19 or proof of a recent negative COVID-19 PCR test taken within 72 hours or a negative COVID-19 antigen test taken within 24 hours prior to the performance required for entry.
The Ivy League of Comedy
is the premier group of stand-up comedians touring America. Known for their elite brand of clever comedy, you've heard their brilliant comedic voices on late-night TV and Comedy Central. Now come see them live on stage! The Ivy League of Comedy honors audiences with original, well-written comedy that doesn't resort to playing on stereotypes or picking on the audience. From theatres to corporate events to fund-raising shows for charities, The Ivy League of Comedy brings you stand-up comedy's funniest and brightest. This hilarious comedy show is as perfect for entertaining your clients as for a great date or a casual night out with friends. Wouldn't you rather be the one talking about the show instead of just hearing about it later? Don't be disappointed that you missed out. Buy your tickets now!
About the Comedians
Joe DeVito
Whether taking on relationships, his Italian-American family, pop culture or current events, Joe DeVito's dead-on timing, unexpected twists and sheer flights of lunacy make him a favorite at the top clubs in New York City and across the USA. His performance at the prestigious Just for Laughs Festival was rated "9.5 out of 10" by The Montreal Gazette.
Joe's TV credits include two performances on The Late Late Show, three appearances on Comics Unleashed, two appearances on Gotham Comedy Live AXS TV, Comedy Central, and was a semi-finalist on NBC's Last Comic Standing. He was also a regular contributor on FOX News Channel's Red Eye and a recurring guest on FOX Business Channel's Kennedy, with other panel appearances including Chelsea Lately, CNN, Animal Planet, Discovery Channel, and truTV's The Smoking Gun Presents...
As a writer, Joe has contributed to Maxim Magazine, MTV, and the award-winning film Super Size Me.
Liz Miele
Liz Miele started doing stand-up at 16 in New York City. At 18 she was profiled in The New Yorker Magazine, at 22 she appeared on Comedy Central's "Live at Gotham." She recently appeared on Comedy Central's "This Week at the Comedy Cellar," NPR's "Wait Wait Don't Tell Me," Hulu's "Coming To The Stage," AXS TV's "Gotham Comedy Live," and was profiled in the March 2015 issue of Runner's World. She's completed several tours with the "Nobodies of Comedy" and Armed Forces Entertainment. Her joke "Feminist Sex Positions" went viral both on YouTube and Upworthy.com. Liz recently released her debut comedy album, "Emotionally Exhausting" on iTunes and Amazon.
Shaun Eli
Stand-up comedian Shaun Eli has rightfully been called one of America's smartest comics. He's headlined comedy shows on five continents. Whether it's a story about dining with a vegetarian or successfully fighting a parking ticket, master storyteller Shaun Eli proves that there's hilarity in the ordinary if you approach life with a comedic warp. Job interviews? Serving on a NYC criminal jury? How about the Ten Commandments? For just about anything he's experienced Shaun has a hilarious story at the ready.
Joining several other performance venues in the region, the Mosesian Center for the Arts will require visitors to our building to be vaccinated for COVID-19 or to show proof of a recent negative test. A complete list of current COVID safety policies is online
Click Here