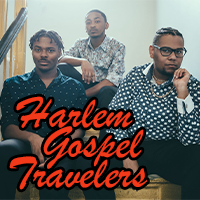 BCT Presents
Harlem Gospel Travelers
Wednesday, August 3, 2022
at
8:00 PM
Buskirk-Chumley Theater
[map]
114 E. Kirkwood Ave.
Bloomington, IN 47408

Call the box office to ask about discounts for groups of 10 or more!
The Harlem Gospel Travelers are not from Harlem. They came to Harlem, however, from far-flung corners of the five boroughs of New York City, and it was in Harlem, that legendary center of African-American culture, that they found their voices. 
"When everything was stripped away, all we had left was the music," says singer Thomas Gatling. "Difficult as it was, we realized that God was opening a door, and it was up to us to walk on through to the other side."
It's on the other side that we meet a transformed
Harlem Gospel Travelers
, complete with a new album, a new lineup, and a new lease on life. Produced by
Eli "Paperboy" Reed
, "He's On Time" marks the group's first full-length release as a trio, as well as their first collection of totally original material, and it couldn't have come at a more vital moment. The music still draws deeply on the gospel quartet tradition of the '50s and '60s, of course, but there's a distinctly modern edge to the record, an unmistakable reflection of the tumultuous past few years of pandemic anxiety, political chaos, and social unrest. The songs here are bold and resilient, facing down doubt and despair with faith and perseverance, and the performances are explosive and ecstatic, fueled by dazzling vocal arrangements punctuated with gritty bursts of guitar and crunchy rhythm breaks. It'd be easy to classify the album as "retro" or "vintage," but the truth is that the young men of The Harlem Gospel Travelers aren't just reviving sounds from the past, they're revitalizing them for the present and reminding us just how relevant this music is (and always has been) in times of hardship and uncertainty.
"These are soulful songs that aren't afraid to rock out" — PopMatters
"Gospel's at the root of everything," says Gatling. "Country, folk, rock, soul, blues; we love it all, and it's all in there."
That's what The Harlem Gospel Travelers are all about. They're here to move you, to lift you up, to free you from your burdens and take you someplace higher. Because even when the world seems its darkest and everything else gets stripped away, the music still remains. It always does.
Doors open at 7:30pm for this reserved seating show. The estimated length of the show is 100 minutes.
Wearing a mask indoors is strongly encouraged.
COVID Policy FAQ
.