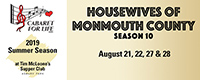 Cabaret for Life Presents:
Housewives of Monmouth County: Season 10
Wednesday, August 28, 2019
at
7:00 PM
Handicapped Accessible. Please let us know at time of ticket purchase (in the required check out question about sitting with anther patron, or by phone: 1-877-235-8587) so we can be sure you're seated comfortably.
McLoone's Supper Club
[map]
1200 Ocean Ave.
Asbury Park, NJ 07724

The zany housewives from Monmouth County are back for another hilarious season of antics!