The selected performance is NOT available for sale.
Please Select Tickets
You have selected: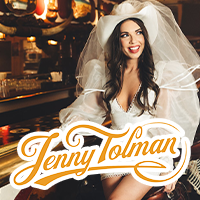 BCT Presents
2022 Jenny Tolman
Saturday, June 25, 2022
at
8:00PM
Buskirk-Chumley Theater
114 E. Kirkwood Ave.
Sweet yet sassy, vintage yet fresh, an old soul with a new vision and some incredible comedic timing, country music songstress Jenny Tolman is the breath of fresh air that the genre needs now. 
"There's always been multiple sides to me," giggles Tolman. "I really like to make people laugh and have a good time and be entertaining. But then, I also really love to use that personality to get people engaged to listen to the deep stuff."
Having woven the incredible storyline of her life into her music thus far, Tolman has found a way to create albums which tie up all that life has handed her – both the good and the bad and the downright tragic – and makes it sound beautiful. On her new album Married in a Honky Tonk, Tolman brings a kaleidoscope of stories and emotions to the country music table with the swagger of a certified superstar.
"Especially after the pandemic and not being able to play as much as we would have liked to, we all realized how important live music truly is to all of us," Tolman explains. "It was really important that we made this album with a good live show in mind. So, when you listen, you'll definitely hear that captured."
Whether it's the underlying rage heard within the soul-bearing lyrics of "Sweetest Revenge" to the painfully honest "Afraid" to the completely relatable "I Know Some Cowboys," Tolman finds herself following in the footsteps of country music legends such as Barbara Mandrell and Dolly Parton, harkening back to a time when singers weren't just singers – they were entertainers and storytellers and the ultimate confidants.
"I want to be an entertainer…I don't want to be just a singer. I know that I can communicate with my audience through the engaging storylines of the songs that I fill my shows with."
Hear what folks have to say about Jenny!
"For the past, present, and future of country music, look no further than Jenny Tolman" — Storme Warren
"In Jennyville, there is beauty, but also warts, and her songwriting exposes both with humor, candor and a heaping helping of compassion." — Brittney Mckenna | ROLLING STONE COUNTRY
"Practically single-handedly bringing humor back into country music" — Robert K. Oermann | MUSIC ROW MAGAZINE
"All the appetites of your country music palette are satiated by the end (of Married in a Honky Tonk), with your funny bone tickled, your brain stimulated, and your spirit raised. Jennyville is a fulfilling place to spend a few hours, and return to often." — Trigger | SAVING COUNTRY MUSIC
Doors open at 7:30pm for this reserved seating show. The estimated length of the show is 100 minutes.
Wearing a mask indoors is strongly encouraged.
COVID Policy FAQ
.