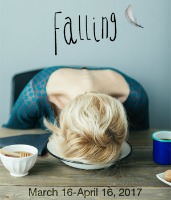 Interrobang Theatre Project presents
Falling by Deanna Jent



Athenaeum Theatre Studio Two
2936 N. Southport Ave.
2nd Floor
Chicago, IL 60657
Lincoln, Wellington and Southport
CTA Bus #9; Brown Line Wellington Stop

Due to strong language, not recommended for all ages. Performance lasts 70 minutes without intermission.



It takes a village, and then some. For Tami Martin, raising her 17-year-old severely autistic son, Josh, is not only a full-time job, it's a labor of love. But Josh's increasingly violent outbursts and pressure from her family threaten to drive Tami's efforts and her sanity to the brink.

Special Offer:

Help Interrobang learn more about YOU! Participate in our

brief survey

and earn a SPECIAL DISCOUNT CODE for $10 tickets to

Falling

! (

https://goo.gl/uGKWYk

)

Special Events:
Due to the nature and content of this production, post-show talkbacks, moderated by dramaturg Margaret Knapp, will take place following these performances:


Fridays––March 18th, March 31st* (after 7:30pm show)

Saturday––April 1st* (after 2pm* & 7:30pm* shows)

Sundays––March 26th, April 2nd, April 16th* (after 2pm show)

Monday––April 10th (after 7:30pm)


Following the Sat. April 1st 7:30pm and the Sunday, April 2nd 2 pm performances, playwright, Deanna Jent will join dramaturg Margaret Knapp for a special talk-back.

Talkbacks with asterisks indicate that local autism experts will be participating in the talkbacks.


Saturday, April 1st at 7:30pm will be ASL signed performance.
Interrobang Theatre Project presents

Falling by Deanna Jent

Thursday, March 30, 2017
Friday, March 31, 2017
Saturday, April 1, 2017
Sunday, April 2, 2017
Thursday, April 6, 2017
Friday, April 7, 2017
Saturday, April 8, 2017
Monday, April 10, 2017
Thursday, April 13, 2017
Friday, April 14, 2017
Saturday, April 15, 2017
Sunday, April 16, 2017

Canceled

Sold Out

Info: hover your mouse over the icon to learn more