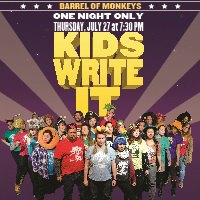 Barrel of Monkeys presents
Kids Write It!
Celebrating 20 Years of Intergenerational Storytelling


Athenaeum Main Stage
2936 N. Southport Ave.
Lobby level
Chicago, IL 60657
Lincoln, Wellington and Southport
CTA Bus #9, Brown Line Wellington Stop

All-ages. Performance lasts 2 hours including one 15-minute intermission.



Join Barrel of Monkeys for a magical night of stories written by kids and performed by some of the Chicago's most talented actors and musicians. Join us as we perform stories from each of our 20 years, and honor the many alumni of our arts education programs in Chicago public schools and parks.
Barrel of Monkeys presents
Kids Write It!
Celebrating 20 Years of Intergenerational Storytelling

Canceled

Sold Out

Info: hover your mouse over the icon to learn more