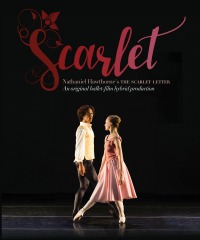 Ballet 5:8 presents
Scarlet



Athenaeum Main Stage
2936 N. Southport Ave.
Lobby level
Chicago, IL 60657
Lincoln, Wellington and Southport
CTA Bus #9, Brown Line Wellington Stop

Performance lasts two hours and 30 minutes with one 15-minute intermission. A brief Q&A will follow the performance.



Ballet 5:8's groundbreaking production, Scarlet, uses classical ballet and film to bring a story inspired by Nathaniel Hawthorne's The Scarlet Letter to life. The dramatic full-length ballet follows the iconic Hester, a young woman caught in adultery, as she struggles to find peace and restoration in the midst of a hypocritical and harsh early-American Puritan society. Scarlet features original choreography by Ballet 5:8 Artistic Director Julianna Slager, film elements directed by choreographer and film producer Preston Miller, spoken word by Chicago-based artist Kylla Pate, and a score by American modernist composer Charles Ives.
Ballet 5:8 presents
Scarlet

Canceled

Sold Out

Info: hover your mouse over the icon to learn more