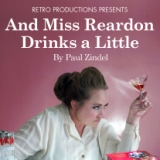 Retro Productions presents
And Miss Reardon Drinks A Little
by Paul Zindel


The Gene Frankel Theatre
24 Bond Street
New York, NY 10012
Between Lafayette and the Bowery
Take the B, D, F, M to Broadway-Lafayette or the 6 to Bleecker Street. Also walking distance from the N, R at 8th Street and the 6 at Astor Place.





And Miss Reardon Drinks A Little is an often biting and occasionally touching black comedy of the late 60s that centers on the lives of the three Reardon sisters, whose father abandoned the family long ago, and whose mother has recently passed away. The sisters, now adults and all working in the New York City public school system, have come to a crossroads - the youngest sister, having barely survived a scandalous incident at school, has suffered a nervous breakdown. When the married sister comes back to the childhood apartment the two unmarried sisters now share in an effort to commit her sibling to an institution, the built up resentments of the last decade are pushed to the forefront. Should Anna be committed? Is it in her best interest or is it just easier for Ceil if she doesn't have to care for her? Is it selfish of Catherine to want to keep her at home? Who is strongest in this fight of wills – and does Catherine really need another cocktail?
Retro Productions presents
And Miss Reardon Drinks A Little
by Paul Zindel

Canceled

Sold Out

Info: hover your mouse over the icon to learn more