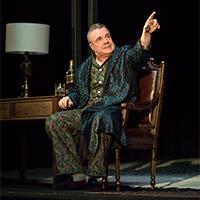 Angels in America Part I - NT Live
by Tony Kushner


James Bridges Theater
235 Charles E Young Dr.
Melnitz Hall
Los Angeles, CA 90095


Conveniently located on the northern edge of UCLA campus in Melnitz Hall, just off Sunset (at Hilgard) Parking in lot #3, just steps from the theater!






Part 1, Millennium Approaches America in the mid-1980s. In the midst of the AIDS crisis and a conservative Reagan administration, New Yorkers grapple with life and death, love and sex, heaven and hell.

Andrew Garfield (Silence, Hacksaw Ridge) plays Prior Walter along with a cast including Denise Gough (People, Places and Things), Nathan Lane (The Producers), James McArdle (Star Wars: The Force Awakens) and Russell Tovey (The Pass). This new staging of Tony Kushner's multi-award winning two-part play is directed by Olivier and Tony award winning director Marianne Elliott (The Curious Incident of the Dog in the Night-Time and War Horse).

Part Two: Perestroika must be purchased separately.
Angels in America Part I - NT Live

by Tony Kushner

Sunday, August 20, 2017
Saturday, August 26, 2017

Canceled

Sold Out

Info: hover your mouse over the icon to learn more