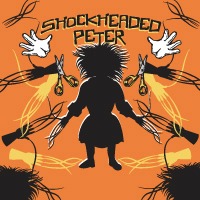 Black Button Eyes Productions presents
Shockheaded Peter



Athenaeum Theatre Studio Two
2936 N. Southport Ave.
Lobby level
Chicago, IL 60657
Lincoln, Wellington and Southport
CTA Bus #9; Brown Line Wellington Stop

No late seating. Recommended for ages 12+. Performance lasts 90 minutes without intermission.



In this Chicago Storefront Premiere musical, a sinister but incompetent master of ceremonies leads the audience through the tale of a childless couple that has their fondest wish granted in the most delightfully dreadful way imaginable, accompanied by vignettes in which the hilariously horrible fates that befall naughty children everywhere are brought to darkly comedic life. Featuring music composed by the Tiger Lillies, this musical returns to the Athenaeum (and Chicago) for the first time since the show toured here with the original cast in 2001 in its first homegrown production by Black Button Eyes Productions.
Black Button Eyes Productions presents

Shockheaded Peter

Sunday, August 20, 2017
Thursday, August 24, 2017
Friday, August 25, 2017
Saturday, August 26, 2017
Sunday, August 27, 2017
Thursday, August 31, 2017
Friday, September 1, 2017
Saturday, September 2, 2017
Sunday, September 3, 2017
Thursday, September 7, 2017
Friday, September 8, 2017
Saturday, September 9, 2017
Sunday, September 10, 2017
Thursday, September 14, 2017
Friday, September 15, 2017
Saturday, September 16, 2017

Canceled

Sold Out

Info: hover your mouse over the icon to learn more