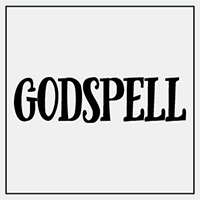 NextStop's 2017/18 Season Presents
Godspell
Conceived and Originally Directed by John-Michael Tebelak, Music and New Lyrics by Stephen Schwartz, Originally Produced on the New York Stage by Edgar Lansbury / Stuart Duncan / Joseph Beruh


NextStop Theatre
269 Sunset Park Drive
-- Inside the Sunset Business Park on Spring Street--
Herndon, VA 20170
(GPS map systems often give incorrect driving directions to our theatre once you are inside the Sunset Business Park--with maroon colored awnings. From "Taste of the World" restaurant, circle counter-clockwise around the building.)





A musical reimagining of the parables of love and understanding taught by Jesus of Nazareth.2> Love, understanding, and tolerance can be found at the foundation of virtually all the great religions of the world. So it's no surprise that Godspell, from three-time Grammy and Academy Award winner Stephen Schwartz (Wicked, Pippin, Children of Eden), took the world by storm. However, due to its popularity, the musical has largely been relegated to being produced by high school and amateur theatres in recent years. NextStop will bring exceptional talent, creativity, and exhilarating production values to this beautiful, happy, uplifting musical in our unique intimate space.
NextStop's 2017/18 Season Presents

Godspell

Conceived and Originally Directed by John-Michael Tebelak, Music and New Lyrics by Stephen Schwartz, Originally Produced on the New York Stage by Edgar Lansbury / Stuart Duncan / Joseph Beruh

Thursday, March 1, 2018
Friday, March 2, 2018
Saturday, March 3, 2018
Sunday, March 4, 2018
Thursday, March 8, 2018
Friday, March 9, 2018
Saturday, March 10, 2018
Sunday, March 11, 2018
Thursday, March 15, 2018
Friday, March 16, 2018
Saturday, March 17, 2018
Sunday, March 18, 2018
Thursday, March 22, 2018
Friday, March 23, 2018
Saturday, March 24, 2018
Sunday, March 25, 2018
Thursday, March 29, 2018
Friday, March 30, 2018
Saturday, March 31, 2018
Sunday, April 1, 2018

Canceled

Sold Out

Info: hover your mouse over the icon to learn more