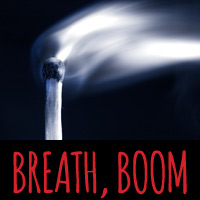 Eclipse Theatre Company presents
Breath, Boom
part of the 2017 Kia Corthron Season


Athenaeum Theatre Studio Three
2936 N. Southport Ave.
3rd Floor
Chicago, IL 60657
Lincoln, Wellington and Southport
CTA Bus #9; Brown Line Wellington Stop

Performance lasts 2 hours and 15 minutes including a 15-minute intermission. Performance contains strong language - not for all ages.



The 2017 Kia Corthron Season concludes with Breath, Boom. A startling acute portrayal of Prix, a hardened female gang member in New York, whose only escape from her narrow, abusive life is an obsession with creating the perfect fireworks display. The play is based heavily on research into the lives of young women who choose to lead violent lives on the streets.

It captures the tough and often poetic language that people who inhabit a world cut off from normal existence use to both mask and portray a perilous existence. Mignon McPherson Stewart makes her Eclipse directorial debut.
Eclipse Theatre Company presents

Breath, Boom

part of the 2017 Kia Corthron Season

Thursday, November 9, 2017
Friday, November 10, 2017
Saturday, November 11, 2017
Sunday, November 12, 2017
Thursday, November 16, 2017
Friday, November 17, 2017
Saturday, November 18, 2017
Sunday, November 19, 2017
Friday, November 24, 2017
Saturday, November 25, 2017
Sunday, November 26, 2017
Thursday, November 30, 2017
Friday, December 1, 2017
Saturday, December 2, 2017
Sunday, December 3, 2017
Thursday, December 7, 2017
Friday, December 8, 2017
Saturday, December 9, 2017
Sunday, December 10, 2017
Thursday, December 14, 2017
Friday, December 15, 2017
Saturday, December 16, 2017
Sunday, December 17, 2017

Canceled

Sold Out

Info: hover your mouse over the icon to learn more