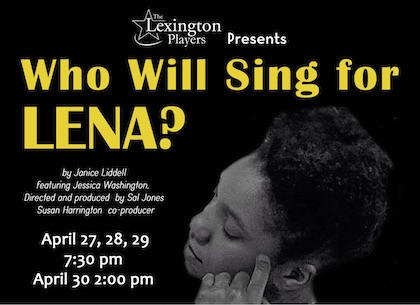 The Lexington Players present:
Who Will Sing for Lena?
The BlackBox


Mosesian Center for the Arts
321 Arsenal Street
Watertown, MA 02472
BlackBox Theater


There will be one fifteen-minute intermission.



Lena Baker was an African American maid in Cuthbert, Georgia who was convicted of capital murder of her white employer, Ernest Knight. She was executed by the state of Georgia in 1945. Baker was the only woman in Georgia to be executed by electrocution. The slaying and execution came during a decades-long period of state suppression of civil rights of black citizens in Georgia by the white-dominated society. It had disenfranchised blacks since the turn of the century, and imposed legal racial segregation and second-class status. At the time of the trial, a local newspaper reported that Baker was held as a "slave woman" by Knight, and that she shot him in self-defense during a struggle. In 2005, sixty years after her execution, the state of Georgia granted Baker a full and unconditional pardon.
The Lexington Players present:
Who Will Sing for Lena?
The BlackBox

Canceled

Sold Out

Info: hover your mouse over the icon to learn more