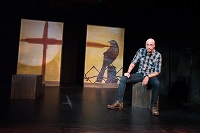 2017PS The Biscuiteater



PURE Theatre
477 King St
Charleston, SC 29401






Nationally-touring solo performer Jim Loucks draws on his Southern childhood to tell the story of a small-town policeman. The character is loosely based on his granddaddy, who was haunted by his shooting of an African-American in the line of duty. Told in Loucks' distinctive Southern storytelling style with songs and humor, he examines the changing attitudes around violence and guns, and what it means to be a man.

Canceled

Sold Out

Info: hover your mouse over the icon to learn more