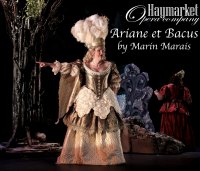 Haymarket Opera Company presents
Ariane et Bachus by Marin Marais



Athenaeum Main Stage
2936 N. Southport Ave.
Lobby level
Chicago, IL 60657
Lincoln, Wellington and Southport
CTA Bus #9; Brown Line Wellington Stop

All ages. Performance lasts 3 hours including one 15-minute intermission.



A perfectly balanced blend of glorious music, poetry, dance, and spectacle, based on a story of betrayal, revenge, and love. Haymarket Opera Company offers Chicago audiences the first chance ever to see this gem of a Marin Marais opera outside Paris, and the first chance for anyone, anywhere to see it since 1696!
Haymarket Opera Company presents

Ariane et Bachus by Marin Marais

Saturday, September 30, 2017
Sunday, October 1, 2017
Tuesday, October 3, 2017

Canceled

Sold Out

Info: hover your mouse over the icon to learn more