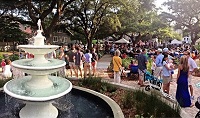 Allan Park Concert with Lyndsey Moynihan
This event is free and open to the public - No ticket or reservation is needed


Allan Park
365 Ashley Ave.
Charleston, SC 29403






Head to Allan Park for Jazz in the Park featuring the Lyndsey Moynihan Jazz Quintet. Growing up, Lyndsey refined her love of jazz by listening to her parent's records. The crackling vinyl albums of history's jazz greats spinning from the family phonograph inspired her. Come enjoy an evening of Jazz under the trees with local food vendors on hand for snacks, desserts or dinner. This exciting performance will have you singing and dancing before the night is out!
Allan Park Concert with Lyndsey Moynihan
This event is free and open to the public - No ticket or reservation is needed

Canceled

Sold Out

Info: hover your mouse over the icon to learn more