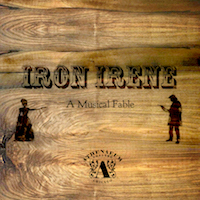 Iron Women Productions presents
Iron Irene: A Musical Fable



Athenaeum Theatre Studio Two
2936 N. Southport Ave.
2nd Floor
Chicago, IL 60657
Lincoln, Wellington and Southport
CTA Bus #9; Brown Line Wellington Stop

Recommended for ages 13+ due to strong language. Performance lasts 2 hours including a 15-minute intermission.



Written by Liz Falstreau and composed by Ashley Flanagan, "Iron Irene: A Musical Fable," is a new musical fable that tells the story of two sisters and their fight for equality, family, and a better life in post-civil war Wyoming.
Iron Women Productions presents
Iron Irene: A Musical Fable

Canceled

Sold Out

Info: hover your mouse over the icon to learn more