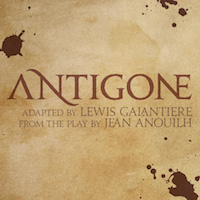 Flat Earth Theatre Presents:
Antigone
The BlackBox


Mosesian Center for the Arts
321 Arsenal Street
Watertown, MA 02472
Getting to the MCA.

By Jean Anouilh, based on the Sophocles play of the same name.



A piece of French Resistance art that evaded Nazi censorship in 1944 through its association with the Sophocles play of the same name, Jean Anouilh's retelling of Antigone boldly reimagines the classical Greek tragedy about a defiant woman in a tyrannical state. Antigone challenges her uncle, the new Theban King Creon, by acting on her moral duty to bury her brother, although this has been declared a treasonous act punishable by death. What transpires is a timeless exploration of when to accept authority in order to maintain the status quo and when to confront it, no matter the consequences.

For more information, visit

flatearththeatre.com

.
Flat Earth Theatre Presents:

Antigone

The BlackBox

Friday, March 16, 2018
Saturday, March 17, 2018
Sunday, March 18, 2018
Friday, March 23, 2018
Saturday, March 24, 2018
Sunday, March 25, 2018
Monday, March 26, 2018
Thursday, March 29, 2018
Friday, March 30, 2018
Saturday, March 31, 2018

Canceled

Sold Out

Info: hover your mouse over the icon to learn more