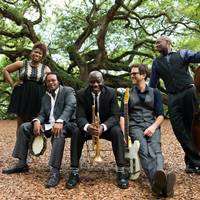 Music
Ranky Tanky Homecoming



Dock Street Theatre
135 Church Street
Charleston, SC 29401






In the midst of a successful US and international tour, Ranky Tanky returns home to Charleston for a one night only event. Quentin Baxter, Kevin Hamilton, Quiana Parler, Clay Ross, and Charlton Singleton make up the quintet performing the timeless music of Gullah culture born in the southeastern Sea Island region of the United States. From playful game songs to ecstatic shouts, from heartbreaking spirituals to delicate lullabies, the musical roots of Charleston, SC are "rank" and fertile ground from which these contemporary artists are grateful to have grown.
Music
Ranky Tanky Homecoming

Canceled

Sold Out

Info: hover your mouse over the icon to learn more