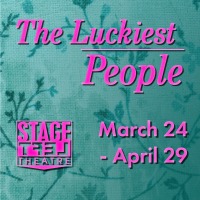 Stage Left Theatre presents
The Luckiest People



Athenaeum Theatre Studio One
2936 N. Southport Ave.
Lobby level
Chicago, IL 60657
Lincoln, Wellington and Southport
CTA Bus #9; Brown Line Wellington Stop

No late seating. Performance lasts 90 minutes with 15-minute intermission. Not recommended for all ages, due to strong language.



After the matriarch of the Hoffman family passes away, Richard is blindsided when his elderly father, Oscar, demands to leave his assisted living facility. With his sister Laura living in Shanghai, and Richard soon to become a first time father with his partner David, he is less than thrilled at the prospect of housing his–to put it mildly–difficult father. Accusations begin to fly and defenses are raised, drawing father and son, brother and sister, and spouses into a heated game of finger pointing with unintended consequences. The first in a trilogy of plays about the Hoffman family. ​ As part of a NNPN Rolling World Premiere, The Luckiest People will be produced by Curious Theatre Company in Denver, Colorado in May of 2017, then at Actor's Theatre of Charlotte in Charlotte, North Carolina in August of 2017, and finally at Stage Left Theatre.
Stage Left Theatre presents

The Luckiest People

Thursday, April 26, 2018
Friday, April 27, 2018
Saturday, April 28, 2018
Sunday, April 29, 2018

Canceled

Sold Out

Info: hover your mouse over the icon to learn more