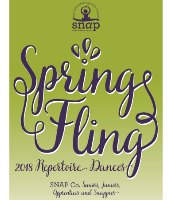 Studio North Academy of the Performing Arts presents
Spring Fling!
SNAP Company Repertoire 2018


Athenaeum Main Stage
2936 N. Southport Ave.
Lobby level
Chicago, IL 60657
Lincoln, Wellington and Southport
CTA Bus #9, Brown Line Wellington Stop

All-ages. Performance lasts up to 3 hours including an intermission.



The three performance and competitive companies at SNAP present their Repertoire Group dances and solos/duos in concert.
Studio North Academy of the Performing Arts presents

Spring Fling!

SNAP Company Repertoire 2018

Sunday, April 8, 2018

Canceled

Sold Out

Info: hover your mouse over the icon to learn more