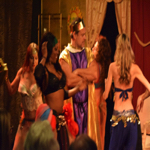 King Solomon & His 700 Wives
King Solomon & His 700 Wives
By the Composer of The Jackie Mason Musical


Empire Stage OR Showtime Performing Arts Theatre,Boca Raton
1140 N. Flagler Drive
OR 503 S.E. Mizner Blvd, Royal Palm Place, Boca Raton.
Fort Lauderdale or Boca Raton, FL 33304
Fort Lauderdale, Florida OR Boca Raton


Now in two different locations All performances at Empire Stage except 2PM shows. 2 PM shows are at Showtime Performing Arts Theatre, Boca Raton.



Hilarious Musical-Comedy Based on the Biblical Legend of King Solomon who had 700 Wives and 300 Concubines.
King Solomon & His 700 Wives

King Solomon & His 700 Wives

By the Composer of The Jackie Mason Musical

Thursday, February 22, 2018
Friday, February 23, 2018
Saturday, February 24, 2018
Sunday, February 25, 2018
Thursday, March 1, 2018
Friday, March 2, 2018
Saturday, March 3, 2018
Sunday, March 4, 2018
Thursday, March 8, 2018
Friday, March 9, 2018
Saturday, March 10, 2018
Sunday, March 11, 2018
Wednesday, March 14, 2018
Wednesday, March 21, 2018

Canceled

Sold Out

Info: hover your mouse over the icon to learn more