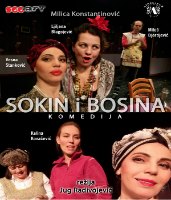 SEE Art Fusion Project, Inc. presents
Sokin i Bosina
Stage Play in Serbian Language


Athenaeum Main Stage
2936 N. Southport Ave.
Lobby level
Chicago, IL 60657
Lincoln, Wellington and Southport
CTA Bus #9; Brown Line Wellington Stop

Recommended for ages 12+. Performance lasts 90 minutes without intermission.



Volite li svoju taštu? Volite li svoju svekrvu? Verovatno obožavate njihove savete, uživate u ispunjavanju njihovih želja i očekivanja i sanjarite o zadovoljenju njihovih životnih potreba. Ako je tako, sigurno bi uživali da vam zajedno dođu u posetu? Na produženi vikend. A na čitav život? Ako je za vas ostvarenje tog sna, iz nekog razloga, nemoguće, možete da proživite takvo iskustvo zajedno sa junacima naše predstave, smejući se, pri tom, dok vas vilice ne zabole. Pred vama je susret koji nikoga ne ostavlja ravnodušnim.

Do you like your in-laws? Do you love your mother-in-law? You worship all their advice no doubt; you enjoy fulfilling their wishes and expectations and probably day-dream of meeting all their needs. If so, you must surely enjoy them coming to visit together. For a long weekend... or maybe for life? If for some reason this dream of yours can sadly never come true, at least you can live out that experience together with our heroes in the play and laugh about it. Before you is an encounter that leaves no one indifferent.
SEE Art Fusion Project, Inc. presents
Sokin i Bosina
Stage Play in Serbian Language

Canceled

Sold Out

Info: hover your mouse over the icon to learn more