The selected performance is NOT available for sale.
Please Select Tickets
You have selected: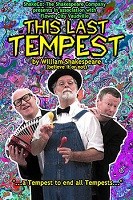 ShakeCo: The Shakespeare Company of Greater Rochester presents
2017 THIS LAST TEMPEST
based on the works of William Shakespeare
Thursday, December 29, 2016
at
7:30PM
MuCCC
142 Atlantic Avenue
Please note: There is no fee for online purchases. There is a $1.00 service charge for phone orders. To order by phone call 866-811-4111. In lieu of tickets, please print out confirmation receipt for admission to THIS LAST TEMPEST.
One of Shakespeare's final plays (written around 1610), THE TEMPEST has often been viewed as a kind of farewell to the stage for the playwright. Prospero's carefully orchestrated exit from his magical world is seen to mirror Shakespeare's impending retirement to Stratford-upon-Avon. It may, in fact, be the final play Shakespeare wrote alone, before he began collaborating with his eventual successor as playwright to the King's Men, John Fletcher. The tale of magic, love and forgiveness continues to speak to audiences over five hundred years after its writing. This new adaptation takes its name, THIS LAST TEMPEST, from a line by Prospero near the end of the play. This phrase is significant because it not only refers to the storm that sets the play in motion, but to the fact that the "tempest" of events that Prospero arranges for his visitors is the last display of his mystical powers, his last attempt to control his fate, the last bit of excitement before he settles back home to live out his life in peace. Building on the success of their 2016 Fringe Festival show, "Wm. Shaksper's Hamlet," ShakeCo breaks new ground with the production of THIS LAST TEMPEST. Embracing a more active, energetic style of theater, they have teamed up with Flower City Vaudeville to bring a taste of FCV's own brand of theatrical magic into the mix. A healthy dose of zaniness (and audience participation) will give theatergoers an experience very different from a standard Shakespearean production. The show is appropriate for children (and adults!) of all ages. Admission is $10.00 ($5.00 for children 12 years of age and under). LATECOMERS WILL NOT BE ADMITTED.