The selected performance is NOT available for sale.
Please Select Tickets
You have selected: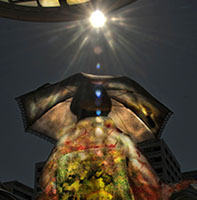 Shadows for Peace and JACCC present
Afternoon of Peace
The Hiroshima & Nagasaki Experience
Saturday, September 16, 2017
at
2:00PM
Aratani Theatre
244 S. San Pedro Street
Featuring dance & musical performances • Hibakusha (atomic bomb survivor) testimonials • photography & projections • special pre-show Irei-Sai (Shinto Memorial Ceremony) at 12:45 PM on the Plaza
Join us as we remember and honor the victims and Hibakusha (survivors) of the August 6 & 9, 1945 atomic bombings and the impact on all human, animal and plant life. This mixed-arts performance is sure to engage your senses!
This mixed-arts performance features: Shinto Preist Izumi Hasegawa, Ken Dance Company, Akiko Dohi, Nori Tani Jazz Ensemble with guest vocalists Takako Uemura, Keiko Kawashima & Helen H. Ota; Members of the American Society of Hiroshima and Nagasaki A-Bomb Survivors (ASA), Nancy Hayata with special guests Mia & Dylan Cheung, and images by Richard Fukuhara.
This performance is dedicated in memory of Mary Kazue Suyeishi, Hibakusha and past President of ASA.
$30 Orchestra / JACCC Members $25
$20 Balcony
Groups 10+ $25/ticket