The selected performance is NOT available for sale.
Please Select Tickets
You have selected: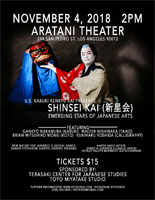 U.S. Kabuki Kenkyu Kai presents
Shinsei Kai
Sunday, November 4, 2018
at
2:00PM
Aratani Theatre
244 S. San Pedro Street
U.S. Kabuki Kenkyū Kai proudly presents
"Shinsei Kai," or "Emerging Stars,"
A performance that allows young Japanese-American and Japanese artists of California to collaborate and showcase their talents.

Founded by the first non-Japanese kabuki actor, Nakamura Gankyō, "Shinsei Kai" will bring together various emerging artists from various art forms, featuring taiko artist Walter Nishinaka, calligrapher Kunihara Yoshida, and koto musician Brian Mitsuhiro Wong. The concept behind "Shinsei Kai" is to allow young artists an opportunity to expand their artistic boundaries and have master artists give their support and guidance. Joining us from Japan is master artist Bandō Ai (Japanese classical dance), and from the San Francisco Bay area, koto master Shirely Muramoto Wong.

In addition, "Shinsei Kai" will feature the presentation of official name taking, or natori hiro, of Los Angeles local Bandō Kyōharumi (AKA Cheryl Ikegami). This is the first presentation of official name taking presented by local Japanese dance artist, Bandō Hirohichirō. The official name can only be granted by the headmaster of the Bandō school, then Bandō Mitsugorō X, and only after the dancer has undergone vigorous training of the mind, body and soul.