The selected performance is NOT available for sale.
Please Select Tickets
You have selected: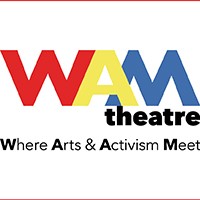 WAM Theatre presents
Lady Randy
by Anne Undeland
Thursday, April 18, 2019
at
7:30PM
Elayne P. Bernstein Theatre
70 Kemble Street
WAM Theatre presents
LADY RANDY by Anne Undeland
Directed by Jim Frangione
April 18-May 5, 2019
In 1875, the American heiress, Jennie Jerome, seemed to have have it all. She had married an English lord, she was young, rich and beautiful, and she had just given birth to Winston Churchill. LADY RANDY takes us on a dizzying ride through the treacherous, kaleidoscopic sexual and political landscape of her marriage. A woman ahead of her time, Jennie kept everyone watching, kept them guessing, and she never, ever surrendered.
"Brilliant, maddening, impossibly seductive, vaultingly ambitious, I fell headlong in love with this woman who was at once so ahead of her time and yet very much a product of her era. The first in a long line of dollar princesses, Jennie Jerome stunned me in the audacity with which she wrote her own rules in the dangerous game of sex and power. Helping launch WAM Theatre's world premiere production of LADY RANDY – right here in the Berkshires – is among the biggest thrills of my life." ~Playwright Anne Undeland
"Berkshire Playwrights Lab (BPL) is proud to have been a part of the development of LADY RANDY for the past 1 1/2 years. We are always thrilled when a play we have nurtured moves on to a production in the Berkshires or another regional theatre. Our mission is to give playwrights a safe and supportive environment so they can do their best work and this is another example of the value of that mission. We love working with our artistic partners in the Berkshires and wish the best of luck to Anne, Jim, WAM Theatre and Lady Randy as their journey continues." ~Tristan Wilson, Managing Director, Berkshire Playwrights Lab
Mature language and sexual themes. Recommended for ages 14+.
ABOUT WAM Theatre:
Based in Berkshire County, Massachusetts, WAM Theatre is Where Arts and Activism Meet. The award-winning company was co-founded in 2010 by Canadian director, actor, educator, and producer Kristen van Ginhoven. WAM's vision is to create opportunity for women and girls through the mission of theatre as philanthropy.
Inspired by the book Half the Sky: Turning Oppression into Opportunity for Women Worldwide by Nicholas Kristof and Sheryl WuDunn, WAM donates a portion of the proceeds from its theatrical events to organizations that benefit women and girls.
Since 2010, WAM Theatre has provided paid work to more than 200 theatre artists and donated more than $56,500 to fifteen local and global organizations taking action for women and girls in areas such as girls education, teen pregnancy prevention, sexual trafficking awareness, midwife training and more. In addition to the main stage productions and special events, WAM Theatre's activities include a comprehensive educational outreach program and the Fresh Takes Play Reading Series. For more information, visit www.WAMTheatre.com
No Berkshire, Senior, Teacher or Military Discount.