The selected performance is NOT available for sale.
Please Select Tickets
You have selected: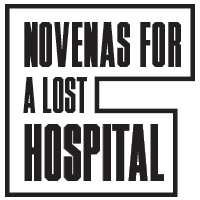 Novenas for a Lost Hospital
Thursday, September 5, 2019
Rattlestick Playwrights Theater
224 Waverly Place
Check-in time at 7:00pm at St John's in the Village (218 W 11th St.).
Notice: Put on your sneakers (or most comfortable pair of shoes) and leave your heavy bags at home because Novenas for a Lost Hospital is a mobile experience. Your experience will start at 7:00 at ST. JOHN'S IN THE VILLAGE (below our theater at 218 West 11th Street), then move up the stairs to our theater, then move back downstairs a few blocks away to visit the NYC AIDS Memorial. Due to the traveling nature of this production, we encourage you to let us know if you anticipate having any difficulty traveling with us.


Novenas for a Lost Hospital
Written by Cusi Cram
With Dramaturgy by Guy Lancaster
Directed by Rattlestick Artistic Director Daniella Topol 

Novenas for a Lost Hospital is a communal experience to remember, honor, re-imagine and celebrate St Vincent's Hospital. Inspired by the caretakers and patients of St. Vincent's Hospital, and guided by Saint Elizabeth Seton, this unique event takes a 60-person audience on a journey from an enclosed garden to Rattlestick's intimate West Village theater to the NYC AIDS Memorial Park.

Presented in partnership with Broadway Cares/Equity Fights AIDS, The Lesbian, Gay, Bisexual, and Transgender Community Center, NYC AIDS Memorial Board, NYU Rory Meyers College of Nursing, PrEP4All, St. John's in the Village, Village Preservation, and Visual AIDS

Starring Kathleen Chalfant with Ken Barnett, Goussy Celestin, Leland Fowler, Justin Genna, Alvin Keith, Shayne Lebron-Acevedo, Kelly McAndrew, Noriko Omichi, Rafael Sánchez, Laura Vogels, and Natalie Woolams-Torres
Choreographer: Edisa Weeks 
Set Designer: Carolyn Mraz
Costume Designer: Ari Fulton
Lighting Designer: Stacey Dosier
Co-Sound Designers: Sinan Zafar and Brian Hickey
Props Designer: Rhys Alexander
Composer: Serge Ossorguine
Creative Partner: Lannyl Stephens

This is not an ADA-compliant venue. However, we do our best to accommodate any and all patrons.

Novenas for a Lost Hospital was commissioned by The New York State Council on the Arts with the Support of Governor Andrew M. Cuomo & The New York Legislature, and was developed at Space on Ryder Farm. Production support is provided by The Still Point Fund and the Venturous Theater Fund of Tides Foundation.