The selected performance is NOT available for sale.
Please Select Tickets
You have selected: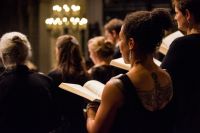 In Person
St. John Passion (In Person)
BWV 245
Saturday, March 26, 2022
at
7:00PM
Emmanuel Church
15 Newbury Street
Please help us continue to further our commitment to inclusiveness by making our music accessible to all audiences. If you are able to pay at or above our suggested ticket price, you empower us to equitably provide high quality, professional performances to all in our community. We encourage you to purchase a ticket at the price point most comfortable to you, and above all else, we want you to share in the joy of our music.

The Gospel of John relates the story of Christ's last days as a clash of political forces, where conflicting power structures conspire to crush a visionary reformer. Bach's dramatic, vivid, and deeply emotional setting of this Passion narrative does not shrink from this troubling human parable; yet the chorales and arias continually expand the focus of the Gospel text to all of humankind: our shared culpability, vulnerability, and ultimate potential for redemption through faith and love. Emmanuel Music continues its tradition of exploring Bach's most challenging and controversial works. This highly charged rendering of the Gospel of John is presented on the heels of conversations and lectures that engage with its troubling text - revealing this masterpiece of searing real-time drama and deeply felt emotion as absolutely essential listening.