The selected performance is NOT available for sale.
Please Select Tickets
You have selected: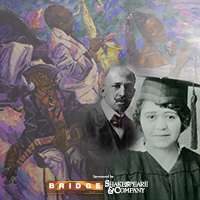 Knock Me a Kiss - A Staged Reading
by Charles Smith
Friday, February 18, 2022
at
7:00PM
Tina Packer Playhouse
70 Kemble Street
Co-Produced by BRIDGE and Shakespeare & Company
Directed by Regge Life Indoors at the Tina Packer Playhouse
COVID Policy for Indoor Performances
All patrons are required to show a form of ID and proof of vaccination to see any indoor performances. Proof of vaccination can be one of the following: Present a COVID vaccination card, proof of a negative COVID test in the last 48-hours, or submit a COVID vaccination card or negative COVID test electronically through Bindle. To get the Bindle app visit: joinbindle.com/people. Masks are required inside at all times, regardless of vaccination status.
Inspired by true events,
Knock Me a Kiss
tells the story of the 1928 marriage of W.E.B. Du Bois' daughter Yolande to one of the great poets of the Harlem Renaissance, Countee Cullen.
This union between the daughter of one of the country's most well-known black intellectuals and a poet and leader of the New Negro movement begins with great pomp and circumstance, but Countee is soon to leave Yolande for a new life – and partner – in Paris. Jazz band-leader Jimmy Lunceford was Yolande's first love, but upon returning to seek his affections she finds he, too, has moved on. This production is part of a weeklong series of events commemorating the local legacy of W.E.B. Du Bois and his family, including their work for civil rights and social justice. A collaboration between Shakespeare & Company and BRIDGE—Berkshire Resources for Integration of Diverse Groups through Education—this performance precedes the memorial service and burial of Dr. Yolande Du Bois Williams Irvin, the granddaughter of W.E.B. Du Bois, at the family gravesite at the Mahaiwe Cemetery in Great Barrington. Other Dr. Yolande Du Bois Williams Irving Memorial events will be hosted by BRIDGE as part of the Town of Great Barrington's fifth annual W.E.B. Du Bois Legacy Festival. This is a special reparations moment in racial justice organizing.
Founded in 2007, BRIDGE (dba Multicultural BRIDGE) is a grassroots organization dedicated to advancing equity and justice by promoting cultural competence, positive psychology, and mutual understanding and acceptance. The organization acts as a catalyst for change through collaboration, education, training, dialogue, fellowship and advocacy. BRIDGE is a minority and women-run non-profit certified by the Office of Supplier Diversity of the Commonwealth of Massachusetts (SDP), with certified competencies in training, education, language access, and multicultural awareness.