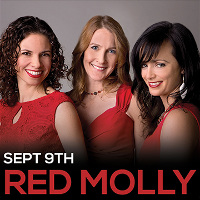 Red Molly
All Sales Final. No Refunds.
Sunday, September 9, 2018
at
8:00 PM
Bags will be searched. All sales final, no refunds.
130 West College Avenue
State College, PA 16801
The Friedman Auditorium

Venue Information:

*|venue_name|*
*|venue_location|*
*|venue_address_line_1|*
*|venue_city|*, *|venue_state|* *|venue_zipcode|*
*|venue_phone_number|*
*|series_important_info|*
*|venue_box_office_hours|*
The Americana sweethearts who took a break in 2015 to work on their solo recordings are back for a limited number of shows in 2017-18. These very special shows feature picks from each of their 2017 solo projects, arranged in the signature Red Molly style as well as Red Molly favorites that span their 11-year career. A new lineup includes Eben Pariser (Roosevelt Dime) on electric guitar and drums and Craig Akin (Roosevelt Dime) on upright bass.