The selected performance is NOT available for sale.
Please Select Tickets
You have selected: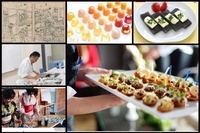 JACCC in collaboration with Ritsumeikan University, Kyoto Japan present:
The Future of Food
Japan's Initiative for Food Sustainability
Saturday, March 21, 2020
at
10:00AM
JACCC
244 S. San Pedro Street
The JACCC in collaboration with Ritsumeikan University, Kyoto, Japan will address current issues of food sustainability. Presented as a 2-part series, the morning session starts with Mottainai NOW. From the Edo Era (1603-1867) to the current Reiwa Era how has Japan maintained its culinary traditions and avoided food loss? Has innovative research and technological advancement helped sustainability?
After a lunch break for those attending both sessions, the afternoon session focuses on Jelly Food Égo – Let's Feed a Growing Population. Japan's slow food activist and a leading slow food researcher from Ritsumeikan University will present EGO – a seaweed from Akita Prefecture in Northern Japan a multi- purpose jelly food is an innovative approach under development for multiple culinary uses that can be be food for the elderly, as emergency food, for space food, etc. that can be stored at room temperature, yet are made from natural ingredients.
Dr. Masayoshi Ishida, Dr. Tomomi Nonaka, Dr. Kaori Kamatani, Dr. Takeshi Shinmura, are leading food sustainability experts; Ms. Makiko Shima is a slow food activist; together they will present innovations and demonstrations of tuna fish cooking, service engineering, and introduce the use of service robots to address multiple sustainability initiatives from Japan.
$15 per session General Admission | $13 JACCC Members
Ticket holders for BOTH sessions receive a special vegetarian bento*
* You must purchase tickets to both sessions to receive a bento
Mottainai NOW – The Legacy of Japan's Food Sustainability Movement
Jelly Food Égo – Let's Feed a Growing Population
Need help purchasing tickets?
Please Call the Box Office Tues - Fri; 12 - 5 PM at 213-680-3700
Handling Service Fee applicable. All Sales are final. No refunds or exchanges