The selected performance is NOT available for sale.
Please Select Tickets
You have selected: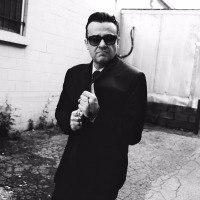 Guitarist, Singer, Songwriter
Joel DaSilva
American Blues Rock
Sunday, September 10, 2017
at
7:00PM
Arts Garage
94 NE 2nd Avenue
PLEASE SELECT TABLE. SEATS ARE FIRST COME FIRST SERVED. BYOW – BRING YOUR OWN WHATEVER!
Blues guitarist Joel DaSilva will SHAKE up Arts Garage with The Midnight Howl - Keith Crupi and Jonny Doe working on the keyboard. Delving back deeply into his Chicago Blues and Americana roots, DaSilva has emerged with some truly visceral new material, the culmination of months of soul searching, hard living and late-night driving. The result? "Everywhere From Here," featuring the single "SHAKE!" released in July, 2017. 'SHAKE!' is the first single from DaSilva's forthcoming new album entitled "Everywhere From Here" to be released in August 2017. Produced at internationally renowned TrunNoyz Studios in Fort Lauderdale, Florida, 'SHAKE!' captures the essence of Joel's combustible new blues sound which combines elements of lo fi garage blues with a driving roots beat. The accompanying video was shot at local blues environs throughout South Florida and promises to provide an evocative visual backdrop to Joel's sizzling new track, 'SHAKE!' - Now available on iTunes and Spotify.

"Whiskey Do You Good and Make You Feel Right, Shake Baby Shake!"

The son of traveling musicians from Brazil, DaSilva lost his father at age 3, which had a profound impact on the young artist's life. At the age of 18, DaSilva joined his first blues outfit as the lead guitarist for "Junior Drinkwater and the Thirst-quenchers". DaSilva went on to put out 5 independent records thus far in a career spanning over 10 years. DaSilva has worked alongside such widely recognized and diverse artists as B.B.King, Ray Charles, the White Stripes, A.C. Reed, the Fabulous Thunderbirds, Reverend Horton Heat, Foghat, Los Lobos, Leon Russell, the Black Crowes, Nighthawks, Edgar and Johnny Winter, and Jimmie Vaughan

His career highlights include performances at Montreal International Jazz and Blues Festival, The IBC Challenges in Memphis and opening for Jeff Beck at the Sunfest Music Festival in South Florida. He has also opened for BB King during his 30-year career. DaSilva has performed well over 1,000 shows from Los Angeles to London. Joel has appeared at prestigious festivals around the world including the Montreal International Jazz And Blues Festival, Mont Tremblant International Music Festival, Curacao Music Festival, Sunfest, Riverwalk Blues Festival, and the San Diego Music and Roots Festival.

In addition to his music career, DaSilva has appeared in two independent films including his portrayal of "Sheriff Cousins" in the creepy noir indie film "Sleep," featured in the Fort Lauderdale International Film Festival and California Film Festival. He also co-wrote the soundtrack for "Sleep" with electronica artist Kevin Kage.