The selected performance is NOT available for sale.
Please Select Tickets
You have selected: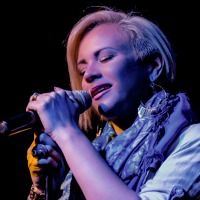 Soul Singer Influenced by Etta James & Janis Joplin
Lauren Mitchell Returns to Arts Garage
Accompanied by Her Blues Band
Saturday, September 16, 2017
at
8:00PM
Arts Garage
94 NE 2nd Avenue
Main Stage
PLEASE SELECT TABLE. SEATS ARE FIRST COME FIRST SERVED. BYOW – BRING YOUR OWN WHATEVER!

The year 2016 was one of large-scale and unexpected change for Tampa Bay area blues and soul vocalist Lauren Mitchell. During a tumultuous time in both her personal and professional life, she was given the opportunity to rise from the challenges she was facing and make the album of her career with producer Tony Braunagel. Mitchell took the leap of faith because she is a true student of the blues, a music that's all about finding a way to transform difficult experiences into something cathartic. The timing was perfect. She had an album to record.

That album, "Desire," is her most fully realized musical statement to date. Through a bold mix of her own original material, songs she handpicked from the repertoires of her friends, and select covers of tunes first performed by Etta James, Bettye Lavette, Diana Ross, Aretha Franklin and Betty Davis, Mitchell tells a blues story that's been a lifetime in the making. It's a stylistically varied set of 13 songs expertly recorded by drummer and Grammy-winning producer Tony Braunagel, whose work with Bonnie Raitt, Taj Mahal, and Robert Cray have made him one of today's most in-demand blues industry professionals.

Recorded during a ten-day trip to Los Angeles, Braunagel brought out the best in Mitchell, highlighting every nuance in her powerful vocals and helping her craft an emotionally resonant album that's destined to go down as one of the year's highlights. Besides Braunagel, the band features guitarists Johnny Lee Schell and Josh Sklair, keyboardist Jim Pugh, bassist Reggie McBride, sax player Joe Sublett, trumpet player Darrell Leonard, and percussionist Lenny Castro. "The blues is a song of victory," Mitchell says. "It's a way to say, 'I'm over it,' and now I'm turning it into this beautiful thing that can help someone else heal. That's what this record is for me.

Nominated for TWO Blues Blast Awards (Best Soul Blues Album, "Desire" & Sean Costello Rising Star Award), "Desire" (current release) spent 10 weeks in the top 5 on the Roots Music report Soul Blues Chart & hit NUMBER ONE on that chart twice. "Desire" also spent two consecutive months is the top 25 on the Living Blues Chart. 2014 Suncoast Blues Society IBC Winner.

"A mesmerizing performer, with a voice for the ages" – Jack Sullivan, Blues Music Magazine

"I miss Etta a little less when I hear Lauren sing." – Josh Sklair, Grammy Award Winner, Producer and Guitarist for Etta James

"A soul-stirring voice and an arresting presence" – Tony Braunagel, Producer, Grammy and Blues Music Award Winner

"Lauren prowls the stage like a cat waiting to strike. Her powerful vocals and dynamic stage presence will captivate you" – Larry Lisk, KBA Award Winner, DJ WMNF Radio

"Mitchell's powerful voice immediately punched me in the gut and shook me to the deepest part of my soul!" – Blue Monday Monthly

"A Unique, gripping voice … this wonderful singer will soon be known far beyond the borders of Florida." – Munich Talk, Germany