The selected performance is NOT available for sale.
Please Select Tickets
You have selected: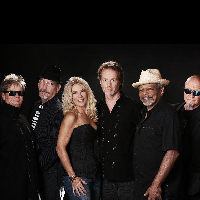 A Virtual Powerhouse of Musical Talent
The Wolfepak Band
Jazz, Rock, R&B, and Blue Eyed Soul
Sunday, December 3, 2017
at
7:00PM
Arts Garage
94 NE 2nd Avenue
PLEASE SELECT TABLE. SEATS ARE FIRST COME FIRST SERVED. BYOW – BRING YOUR OWN WHATEVER!
Join us as The Wolfepak Band presents an All Star Tribute Show paying Homage to Hall of Fame and Grammy award winning artists. Our show features the music of Steely Dan, Michael McDonald, Boz Scaggs, Crosby, Stills & Nash, Stevie Wonder, Luther Vandross, Blood, Hall & Oates, The Beatles, Bonnie Raitt, Toto, and more.

The band's strong vocals, courtesy of Charles Byrd and Liz Sharp are deftly supported by these equally gifted musicians: David Wolfe (band leader/drummer/vocals), Michael Weinstein (bass), Scott Sherman (guitar & vocals) and Larry Kessler (musical director/keyboard & vocals). Their three piece horn section completes the sound. Our last show at Arts Garage was to a Sold Out Room, you won't want to miss out on this show!

Christina Smith reviewed: "I absolutely love this band. They are so entertaining with an unlimited amount of talent, great song selection and top notch performances. Each member of this band are very accomplished artists. So if you enjoy listening and dancing to songs that make you want to move and sing along then this band is a must see!! Oh did I mention they are all really nice and personable too! If you see them perform once you are going to want to see/ hear them perform again and again!"

Lauren Payne reviewed: "I am so very proud to be a Wolfepak follower. Each singer portrays each group they are playing and I am so impressed how well they are. I actually close my eyes and I actually feel as though the actual band is playing. If you are not a Wolfepak listener ... you should be. I am quite impressed on everyone's ability. Ripp's Lounge Saturday evening, be there ... or be square."

Nicholas Marando reviewed: "The Wolfepak" a band of talented musicians and vocalists that rock the house with every performance. There is magic in thier music. As a group there is harmony in every note. Their performances cator to music selections from Rock, Blues, Jazz and Funk to name a few. If you really want to be entertained, come on out and enjoy an evening you will tell your friends about".

Claire Canonico reviewed : "This band is totally awesome!!! Haven't heard such a tight sound in a long time. Love their style, their heart and they play great songs that other bands just don't do! Could have danced all night....I'm a follower... thank you Wolfepak!!!!"