The selected performance is NOT available for sale.
Please Select Tickets
You have selected: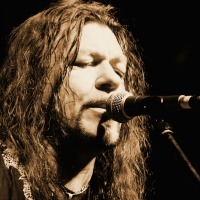 World Blues & Roots Music from Australia
Harper and Midwest Kind
Blues, Soul and World Music
Friday, February 16, 2018
at
8:00PM
Arts Garage
94 NE 2nd Avenue
PLEASE SELECT TABLE. SEATS ARE FIRST COME FIRST SERVED. BYOW – BRING YOUR OWN WHATEVER!
An amalgamation of blues, soul, and world music, Australian singer/songwriter "Peter D. Harper," now based in Detroit, creates a heady mix of roots music through his creative use of the harmonica, and the haunting drone of the didgeridoo. Harper possesses a powerful, soulful voice and a deep, almost mystical approach to music that some might say has evolved into its own genre. Harper calls it "World Blues" -- a rich musical stew of '50s rhythm and blues, a '60s message of love and unity, and '70s funky soul, stirred up with masterful, virtuoso harmonica and the deep, woody, percussive tones of the didgeridoo, served up in a feast of timeless mystery. Harper has received an amazing 14 Blues/World Music awards (including a Gold Record) in the USA, United Kingdom, Australia, and Canada. He recently won a Detroit Music Award for "Outstanding Vocalist". No Depression Magazine's (USA) Rod Ames, adds that Harper "has written and arranged some of the most soulful blues-rock filled music I have ever heard." While Chip Eagle, (Blues Revue) said at a recent festival "Harper is the most exciting artist on the live scene today". 

Harper is backed by his talented Detroit based band "Midwest Kind" which features: Mike Howe on guitar, James Norris on Bass Guitar and Dee Washington on drums. Harper has just released his new CD "Show Your Love" (Blu Harp). This incredible new CD reached #3 internationally on the Billboard Blues Charts, only being beaten out by Eric Clapton and Joe Bonamassa, and an amazing six months in the Top Ten. Also #1 in the Netherlands, #1 in Italy and #1 on the Australian Blues Charts (Top 5 for 5 months). Harper and Midwest Kind have just returned from a sell-out tour of Australia and a groundbreaking tour of China.

"A singer/songwriter and masterful musician, Harper brings his stories to life with his unique blend of styles that incorporates elements of blues, soul, folk, R&B and so much more.· Harper's work on the harmonica is superb...and then some, adding that element of blues that we all enjoy." – Reflections in Blues, USA

"Treat your ears to something unique and satisfying, and get cozy with 'Show Your Love' soon. This album will change your thinking about what blues can be" – Barry Kerzner, American Blues Scene USA

"There are many moments of true brilliance....Harper's new album is, undoubtedly, the pinnacle of his career so far." – Gio Pilato, Blue Bird Reviews, United Kingdom

"Impassioned vocals and an equally emotion-laden harp! Harper's songs – all eleven tracks here are originals – are distinctive and often catchy blues, avoiding blues clichés though rooted in the late 60s/early 70s style, occasionally with a tinge of Americana or rock. This is a fine release, recommended to all lovers of modern blues – but don't expect a guitar fest, this is far more subtle than that." – Blues Matters, United Kingdom

"This originality deserves the attention of all music lovers!"
– Rootstime, Belgium

"A beautiful album with fine music and especially meaningful lyrics."
– Eric Campfens, Barn Owl Blues, The Netherlands

"'Show Your Love' is not your conventional blues album, but Harper's vocals and harmonica virtuosity, along with the tight support of the backing band are a plus, and the use of the "Down Under" instruments add a lot of character to these songs ... already good songs anyway. If this is what we're calling "World Blues," count me in. The terrific music and the positive messages make this album a keeper in most discerning fans' collections."
– Graham Clarke, Blue Night USA

"Harper is an original, playing the harmonica like an authentic Chicago bluesman, singing about unity and love like a member of peacenik jam band, belting crisp vocals like a straight-up classic rock performer, and then pioneering the didgeridoo into these popular forms of modern music. Unique and quality music of this kind is truly a rare treat".
– Karyn Albano, Modern Rock Review, USA

"Harper was born to play the harmonica. He has an amazing presence and sense of what fits in when he is playing. His blues is original!"
– Muzik Reviews, USA

What makes Harper's music so special is the use of instruments particularly the djembe and the didgeridoo. Together with his masterful harmonica playing and his powerful singing, you get a new approach to the roots genre."
– JePe, Beale Street, Belgium