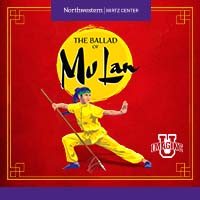 Part of the IMAGINE U series for young audiences, geared toward children and their families.
THE BALLAD OF MU LAN
Written & Directed by Alvin Chan.
Saturday, February 26, 2022
at
11:00 AM
ALL ATTENDEES, INCLUDING KIDS AGES 5-12, WILL BE REQUIRED TO PROVIDE PROOF OF FULL VACCINATION OR A THIRD-PARTY CONFIRMED NEGATIVE COVID TEST WITHIN 48 HOURS OF THE EVENT START.
ALL ATTENDEES INCLUDING KIDS UNDER 12 will be required to show proof of vaccines or negative COVID test within 48 hours of the event start. Recommended for ages 5+. Running time is 80 minutes with no intermission.
Josephine Louis Theater
[map]
on the Evanston Campus of NU at The Wirtz Center
20 Arts Circle Drive
Evanston, IL 60208
Located on the southeast part of the Evanston campus, just off Sheridan Road and Campus Drive. The Louis Theatre is on the south side of the Wirtz Center building, at the base of the hill leading up to the Arts Circle, facing the parking lot(s).

When Mu Lan dresses up as a boy to take her father's place in the army, she has lots to learn and lots to prove, but her biggest battle might be with her confidence. This new telling of an ancient Chinese legend mixes traditional Chinese theatrical techniques with contemporary music for a brand-new take on a classic story of girl power.