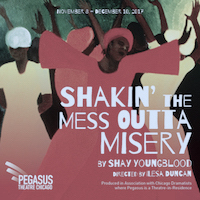 Pegasus Theatre Chicago presents
SHAKIN' THE MESS OUTTA MISERY
by Shay Youngblood


Pegasus in Residence at Chicago Dramatists
773 N. Aberdeen
Around corner from 1105 W. Chicago Ave.
Chicago, IL 60642
Aberdeen & May Street
Chicago Blue Line; #66 Bus





Shakin' The Mess Outta Misery is a memory play with songs and magic. The play follows a young black girl's coming of age in the 1960s South. "Daughter," the main character and 25-year-old narrator, shares memories of being raised by a community of women – some related, some not -- after losing her mother as a child.
Pegasus Theatre Chicago presents
SHAKIN' THE MESS OUTTA MISERY
by Shay Youngblood

Canceled

Sold Out

Info: hover your mouse over the icon to learn more