The selected performance is NOT available for sale.
Please Select Tickets
You have selected: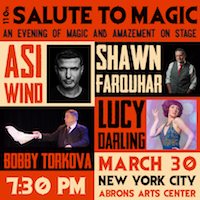 Salute to Magic Show, 2019
The 110th Annual Magic Extravaganza, presented by the Parent Assembly of the Society of American Magicians
Saturday, March 30, 2019
at
7:30PM
Abrons Arts Center, Playhouse Theater
466 Grand Street
Tickets: Regular Seating: $56; Children 12 and under: $39.
More info at: salutetomagic.com
Salute to Magic,

Starring Asi Wind, Shawn Farquhar,

Lucy Darling, and Bobby Torkova
Plus, Honoring David Kaye as Magician of the Year
Since its start in 1909 the Salute to Magic show has provided New York audiences the opportunity to enjoy the amazing talent of some of magic's biggest names. This year's show features a program of internationally renowned performers who are among today's most innovative and accomplished conjurors.
Asi Wind is one of magic's most influential thinkers and performers. Magicians all over the world study and perform his creations. Besides performing full time around the globe in high-end parties and corporate events he also consults for stage and TV shows. He worked on David Blaine's last TV specials on ABC and his first live American tour where Asi was also the guest star. Wind's recent off-Broadway show, Concert of the Mind, completely sold out, extended its run, and received rave reviews and critical acclaim. His new book Repertoire sold out its first run within a few weeks, and it is now on its second print.
Shawn Farquhar is a two-time world champion magician whose fast-paced act encompasses hard core amazement, upbeat comedy, and fun audience participation. His performance also reveals a lifelong emotional connection to magic and he has been described as having "connected the skills of his talent with the passion in his heart." Audiences may recognize Shawn from his recent appearances on Penn & Teller: Fool Us in which he fooled Penn & Teller (twice!). He also stunned Ellen DeGeneres in a recent performance on the Ellen show. Shawn is a winner of magic's most prestigious award, the Grand Prix prize at FISM, the triannual world championship of magic competition, and has also has won major magic awards from the Canadian Association of Magicians, the Pacific Coast Association of Magicians and the International Brotherhood of Magicians. He regularly performs at premiere venues across the globe and we are privileged to have him on the bill at this year's Salute to Magic.
Lucy Darling (Carisa Hendrix). The lovable character of Lucy Darling was created by magician Carisa Hendrix, a 5-time award-winning entertainer featured in the Guinness Book of World Records, Ripley's Believe it or Not, and the 2016 Super Channel documentary Carisa Hendrix: Girl on Fire; which tells the harrowing story of Hendrix's journey to star in her own magic show on the Las Vegas strip. Best known for her classy and sassy character Lucy, Hendrix has been thrilling audiences internationally for the past 15 years with her signature blend of comedy entertainment. She appears regularly at Hollywood's Magic Castle, has been a hit at magic conferences across the United States, and is the co-host, with Kayla Drescher of the popular podcast, Shezam. Carisa was recently nominated for one of magic's most prestigious honors, the Academy of Magical Arts' award for stage magic. Given by the organization which runs the Magic Castle, the awards will be announced May 4.
Bobby Torkova's charming, whimsical and lively renditions of classic magic are filled with humor, heart, and true amazement. Torkova is a two-time first-place winner of the Society of American Magicians' National Competition and won the prestigious Hofzinser Award for Classical Magic given by the Vienna Magic Theater in Austria. He has performed for numerous A-list celebrities, collaborated with the noted Wing Quartet for a performance at Symphony Space, and has been featured in the best-selling book Magic for Dummies (a highly regarded magic text despite its name!). Torkova recently debuted his one-man show A Hanky and a Top Hat which tells of his determined journey to become a professional magician.
The event will also feature the presentation of the Magician of the Year award, recognizing David Kaye for his contributions to magic and to the Parent Assembly. David has had a global impact on the field of children's magic, and he has also held the most significant leadership positions in the Assembly.
Parent Assembly, #1 of the Society of American Magicians was founded in New York in 1902. It formed the basis for a separate national organization that now includes hundreds of other Assemblies. Parent Assembly promotes the art of magic through free shows for the public, lectures and workshops for its members, the annual Salute to Magic, and many other activities. More information is available at: magicsampa1.com.